Special Activity:The Dragon Descent !
Activity Time: 0:00 Dec.07-23:50 Dec.13 (EST)
Activity Server: S1-S125
Activity Content:
During this activity, click

on the main screen and you will see the following interface: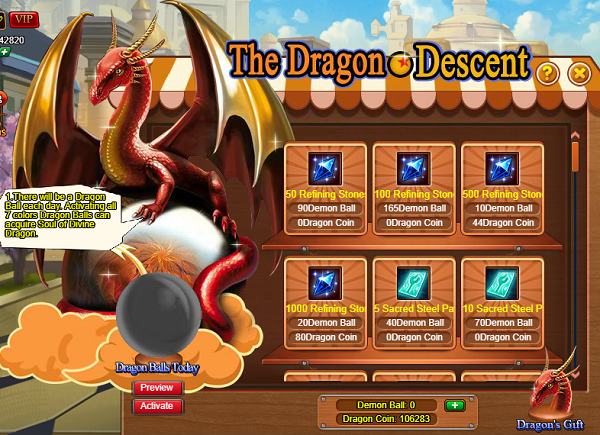 Rules:
1.
During the activity, obtain

1 Dragon coin

via accumulatively recharge

50 gold

or spend

100 gold

.
2.
During the activity, obtain Demon Balls via completing instances, Seek Star, Transmute, Pet Trial, Awakening, Philosopher's Stone. Or spend gold to buy Demon Balls by clicking button.
3.
Activate Dragon Balls at the cost of Demon Balls and Dragon Coins. The color of Dragon Ball changes daily. Collect 7 colors of Dragon Balls to obtain

Soul of Divine Dragon Horcrux

. Demon Balls and Dragon Coins can be exchanged for other rewards.
4. During the activity, there will be a daily Dragon Coin Rank and a 7-Day Dragon Coin Rank.
Daily Dragon Coin Rank:
1) Dragon Coins of a specific day won't affect the rank of another day, but will be added to the 7-day rank.
2) If you rank

top 1-10

, you will get a daily rank reward at

24:00

on that day.
3) Daily rank reward will follow the order in the following picture, i.e. on the first day, if you rank top 1-10, you will get Yellow Emblem reward, and so on. The amount of reward changes according to your rank.
7-Day Dragon Coin Rank:
1)When the activity ends, players ranked 1-30 in 7-day rank will receive final rank reward.
Rewards of Ranking 7-Day: (Ranking1-30's Heroes can get massive Golden Emblem after the event.)
NO.1: 2500 Golden Emblem
No.2: 2000 Golden Emblem
NO.3: 1200 Golden Emblem
NO.4-10: 800 Golden Emblem
NO.11-20: 600 Golden Emblem
NO.21-30: 400 Golden Emblem


*From

23:50 to 23:59, Dec 6th

, it is activity

display time

. During this period, you cannot get any Demon Ball or Dragon Coin, and it is

unavailable to exchange

with those items.
*Daily and 7-day rank rewards are sent via mail.
*You need activate the Dragon Ball Horcrux by yourself.
【Soul of Divine Dragon】
Stats Bonus: HP+19999, Divine Shield+2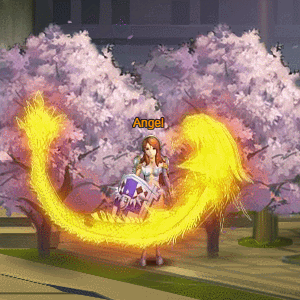 Blade of Queen Operation Team
2017.12.06