Activity One :Honored Chest!

Activity Time:
00:00 Feb.09-23:50 Feb.10 (EST)
Activity Range:
S1-S143
Activity Content:
During the event, My Heroes, you can click the
to join.
Main interface as follows: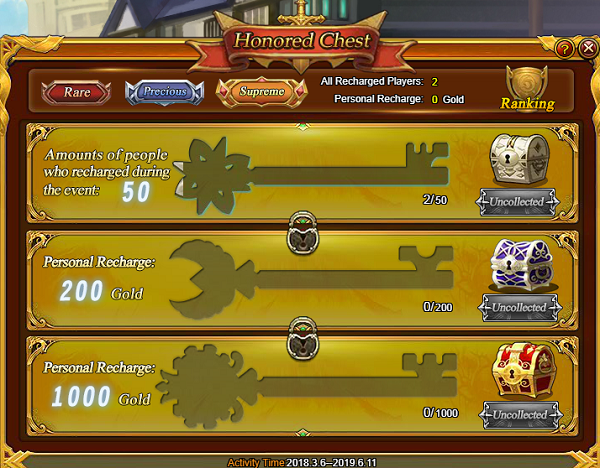 1. During the event, when amounts of recharged reach the certain goal, all the players in the server can obtain Silver Key to unlock the Silver Chest for the reward.
2. Boot up the Silver Key and reach the certain recharge amount, then you will be able to boot up the Purple and Golden Key. Unlock and collect the reward.
3. There are 3 stages of chest, Rare, Precious and Supreme. Altogether 9 chests to collect.
4. Recharge will be recorded in the Honor Ranking. Top 20 players will receive the reward via the mail after the event.
Blade of Queen Operation Team
2018.02.09