Activity One: Free Gift for consumption!
Activity Time: 00:10 Mar.11-23:50 Mar.12 (EST)
Activity Range: S1-S152
Activity Content:
During the event, My Heroes, you can click the

to join.
Main interface as follows: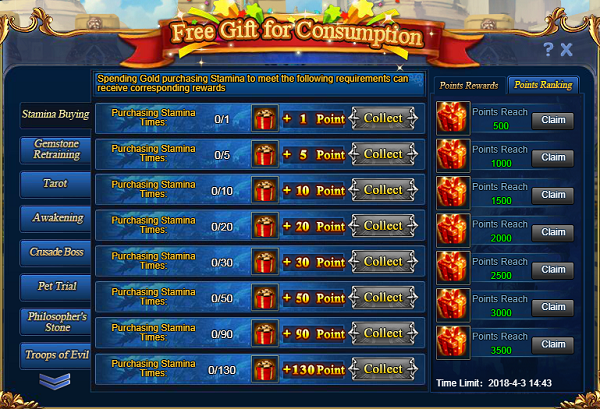 Player can receive corresponding rewards by spending Gold on completing the relevant missions to meet the following requirements. At the same time, player can get the points which are earned by the Mission. And there are two extra rewards: Point Rewards and Point Ranking.
Player's point reaches a certain tier, can claim the personal rewards.
After the event, Top 20 of Point Ranking's player can claim the extra corresponding Ranking Rewards which contains massive Golden Emblems.
*Rewards will be sent through email.
*Each Mission can be completed once.
Blade of Queen Operation Team
2018.03.11.