Requirement:
Unlock at Lv.160, after completing certain instances.
Entrance:
During the event, players can click
to join.
The main interface is as follows:
Each player has three Magic Circles, which respectively apply to the top, middle and bottom files. Players can drag to change their positions.
Each Magic Circle has three wraithstones, which can offer the Circle stats bonus.
Polishing can add stats bonus to the Magic Circle and bewitching can add special circle effect to the Circle.
Introduction:
【Essence Extract】
Players can consume Silver or Gold to activate the Pentacle on the right and extract varied amount of wraithstone essence from it.
The wraithstone essence can be used to upgrade the quality of the wraithstone.
Silver Extract: Players can daily have 50 chances of extracting with Silver. Random amount of wraithstone essence will be produced in line with the number of the lit element spheres. More element spheres, more wraithstone essence.
Gold Extract: Pretty more wraithstone essence will be produced through Gold Extract and there is a chance of extracting perfectly to obtain massive wraithstone essence.
【Wraithstone Transform】
The wraithstone is originally raw wraithstone and needs to be transformed into Stats Wraithstone first.
Click the white raw wraithstone in the Magic Circle and then "Transform" to open the Transform interface, where raw Wraithstone can be transformed into any stats wraithstone with certain amount of Silver.
Stats Wraithstone can add stats bonus, and the transformed Stats Wraithstone can still be transformed into other kinds of stats wraithstone.
【Wraithstone Upgrade】
Transformed stats wraithstone can have its exp and quality upgraded by consuming thewraithstone essence. Higher quality will offer better stats bonus.
In addition, when the total exp of three wraithstones in the same magic circle reached more than 3750, special Circle Effect will be unlocked to make the buddies and main char stronger.
【Magic Circle Polish】
Click "Polish" to polish the Magic Circle with Perfect Gems Powder or Gold.
Each magic circle can have at most three stats, and rare stats such as Stun Accuracy and Stun Resistance can be produced.
Gold Polish has a higher chance of producing rare stats.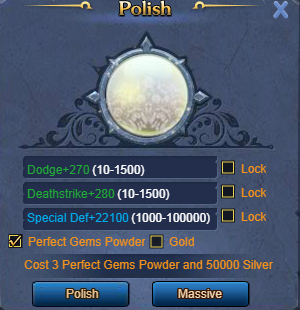 *Perfect Gems Powder can be exchanged with Perfect Gems Shard in Akali (Towns of Lv. 160 and above).
【Magic Circle Bewitch】
Click "Bewitch" and then any element stats to bewitch the Magic Circle.
Each Circle can be bewitched with only one element. Bewitched circle can be bewitched again by consuming certain amount of Gold.
*Magic Circle Effect can be activated only when the total exp of the magic circle reaches 3750.

There are 5 elements in total and circle effects vary from element to element.
Thunder-Battle Focus
Enhancing Melee Atk, Spell Atk and Special Atk and meanwhile reducing the Def of the target;
Earth-Impregnable Fortress
Reducing the damage the player receives when he/she suffers excessive attack;
Wind-Weakness Unhidden
Inflicting extra damage on the target when the HP is low;
Fire-Fire Will
Equipping the player's Melee Atk with extra rage, and reducing the target's rage at high levels;
Water-Last Stand
Triggering the Leeching Effect of the player's Melee Atk when his/her HP is low.
Stats Effect:
Wraithstone stats, Magic Circle stats and Circle Effect of the three Magic Circles apply respectively to the top, middle and bottom files of buddies and main char in the formation. The Circles can be dragged to change their positions in the Pentacle and also the Formation interface.
Players can check the Magic Circle Effect of the opponent and his/her own in relevant position during the battle.