Dear Heroes:
Blade of Queen will undergo an update for S1-S173 to improve and provide better game experience, which starts at 05:00 Jul.12 (EST). This update lasts about 30 minutes after the in-game announcement.
The update details are as follows:
【New Functions】
1. New VIP Privilege: Players above VIP6 can unlock Auto Polishing and Batch Polishing in Gems.
Auto Polishing: Click one single gem and then Auto Polish to open the Auto Polishing interface. Players can select the stats and quality that you want and input the rounds of polishing to start polishing automatically with gems shard or Gold until the three stats that you have chosen appeared.
*You can select no more than 5 stats in Auto Polishing.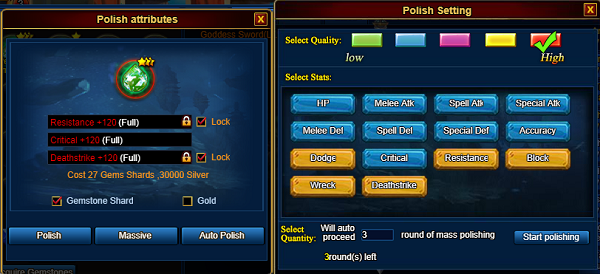 Batch Polishing: Click Batch Polish>select the gems you want to polish>click the Batch Polish Button again to open the Batch Polishing interface. Players can polish multiple gems automatically in order.

2. Horoscope (Unlock at Lv.170 or VIP 6): Players can find it in Seek Star interface and spend silver to quickly seek star 10,000 times.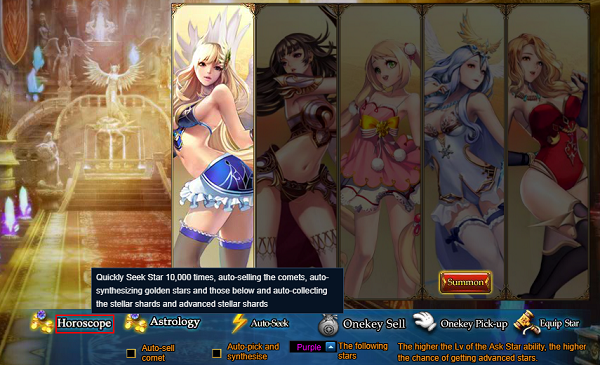 3. Purchase function of SS eidolon: Players can buy directly SS eidolon with Gold in Eidolon interface.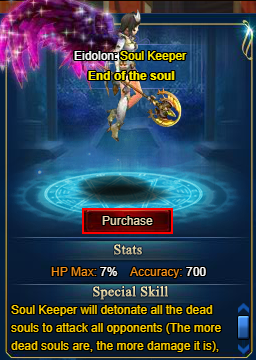 4.

Batch Open

function of multiple random packs: Players can open multiple random packs at once and check the items you get from the packs in Batch Open interface.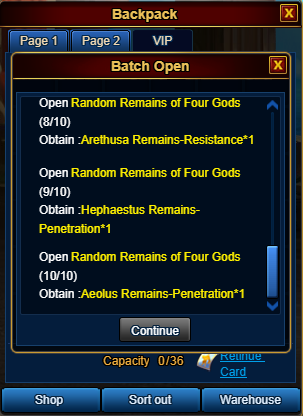 5. Exchange of Certain Titles for Y
ellow Emblems: Explorer title pack and Master of Mining title pack can be exchanged for Yellow Emblems at Akali (Emblem Merchant).
【Improvements】
1. Improve Divine Challenge Icon which is been moved into Enhance-Channeling. Players who completed Divine Challenge will get Luck Point Pack instead of Energy Input Scroll. Players can use silver and luck point to channeling equipment now.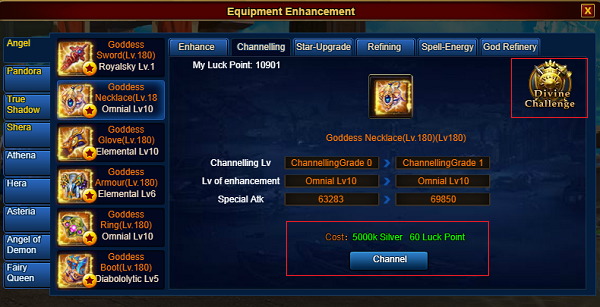 *If there are extra energy input scrolls in players' bag, it will consume scrolls first.
2. Improve Buddy Skin Cultivate which cancel the buddy level limit.
3. Improve sending flowers effects which can avoid freezing.
4. Improve Spectre Hunting Field rules: It will consume 1 step to move and 6 steps to fight with spectres, Elites and Boss.
5. Improve description of Battle Horcrux: Its Passive Skill can be activated when it is arranged in order.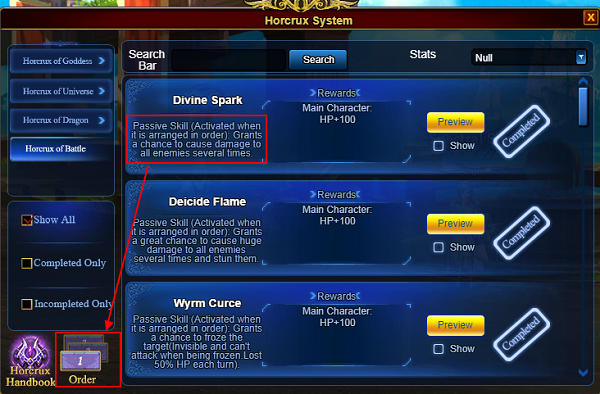 6. Improve Pentacle Interface.
7. Improve envelope tips which can be handled directly in the main screen
8. Improve Retinue Card model which can't be chosen to avoid clicking by mistake
9. Improve Dragon Trail: Dragon soul raid has been speeded up.
10. Improve Gold Lottery: Auto-Draw has been speeded up.
11. Improve Gems and Star:
Gems Function is unlocked at Lv.46 and will unlock one new slot every 10 levels now.
Armor gemstone is unlocked at Lv.106, Boot gemstone is unlocked at Lv.136 and Pure Gemstone is unlocked at Lv.95 now.
Star: Players can exchange all Golden Stars now when level up to Lv.90.
【Bug Fixed】
1. Remove temporarily the Spectre Hunting Field mission in Daily Missions;
2. Fix the bug that Daily Mission-Eden can't redirect to Sanctuary.
3. Fix the bug that the second reinforcement's model can't display during the battle in some cases.

Completion time may vary due to advances or delays in update.
During the update, players will not be able to enter the game, please inform each other.
We are so sorry for the inconvenience it brings about and hope you can understand!
Blade of Queen Operation Team
07/12/2018