Dear Heroes:
Blade of Queen will undergo an update for S1-S229 to improve and provide better game experience, which starts at 04:00 August.7 (EST). The update lasts about 15 minutes after the in-game announcement.
The update details are as follows:
【New Function】
1. Add Elemental Battle Soul—Shadow Battle Soul
EX Skill: Dark Blade Breaking Sky
AOE attack, greatly increase Dodge and Accuracy, reduce target 40 Rage and make the target into cursed state, reduce Melee/Spell/Special Attack by 30% and poison the target for 2 rounds (each round before the attack 10% of the max HP will be reduced disregard of Divine Shield, not applied to BOSS), remain 35 Rage after using.
* Players can use summon stone to obtain Battle Soul and summon stone for Shadow Battle Soul can obtain from official events
Check Battle Soul details:https://boq.carolgames.com/article/get_content/4118/
2. Add Divinity Resonance
If all divinity chosen for team in total is more than rank 100, Divinity Resonance will be activated and brings bonus to divinity chosen for team. Upgrading divinity per 100 rank will increase 5% bonus (up to 40%)
Tip: When chose divinity is rank 100 and other divinity is rank 50, then the actual divinity rank should be: 100+ (50+50+50) *5%=107.5=Rank 107 (Round down)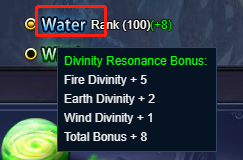 Hover the Mouse over here to check the bonus details
* Bonus effect for each different attribute of divinity is independent. If divinity chosen for team in total is not over rank 100, even other divinity is over rank 100, Divinity chosen for team will not have bonus effect.
3.Add Divine Rapier Sacred Gear
According to legend, the rapier worn by the brave men of the first generation. It is regarded as the rapier of the powerful because of its characteristics and power.
Upgrading Divine Rapier to Star 5 can activate【Judgement of Light】
After Judgement of Light sends out, it will cause no more than 30% HP injuries of enemy who has the minimum HP Percentage among the rivals.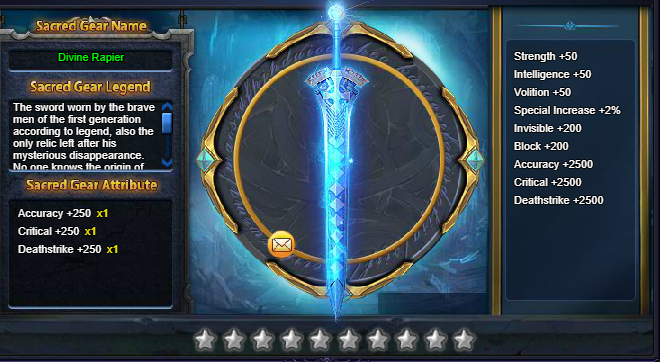 【Improvement】
Improve the vision problem of Numen skills on battle. Now all selected Numen Skills can be seen on battle.
Fixed Bug:
1. Fix the bug that pet skill order cannot be changed in the Formation
2. Fix the bug that rewards from Clash of Teams were mistakenly sent in some cases
Blade of Queen Operation Team
2019.08.08