Colorful Summer Battle Pass
On the hot summer days, Angel has brought new activity- Colorful Summer Battle Pass
for Heroes - colorful summer passes. Come and have a look~
Activity time: 2019/9/2 0:10-2019/9/15 23:40(EST)
Entrance: Click

The activity interface is as follows: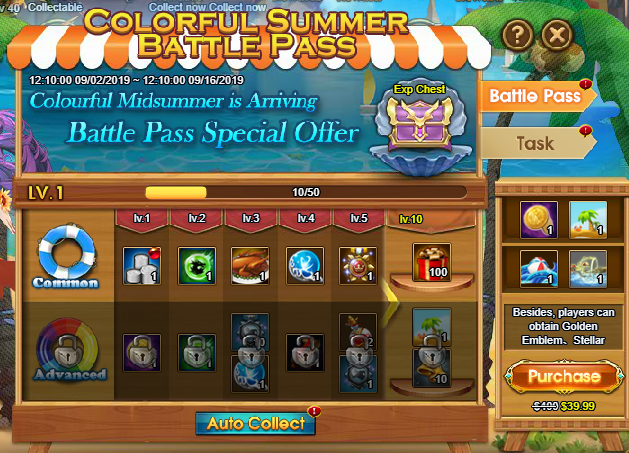 Introduction:
1. Players can obtain Battle Pass experience to upgrade Battle Pass level by completing tasks during the activity. Tasks reset at 0:00 every day.
2. There are 30 levels of Battle Pass. Players can collect the corresponding common rewards according to the current level of Battle Pass. (Advanced rewards are available after activating Advanced Battle Pass)
3. When Battle Pass reaches max level, the experience gained by the players will accumulate in the Exp Chest. Every time the experience reaches a certain number, players can open the chest to obtain random rewards.
Advanced Battle Pass:
Players can activate the Advanced Battle Pass by recharging $39.99. After activating the Advanced Battle Pass, they will enjoy the privilege of Advanced Battle Pass: 50% Battle Pass experience bonus of task each day. The earlier to activate it, the greater the gains!
Besides, Advanced Battle Pass can also unlock the access for advanced rewards, including lots of resources, Summer Bubble, Blueprint-Summer Drink, True Summer War Title and Weatherlight Mount, totally worth 60,000 Gold.
Notice:
1. Advanced Battle Pass can only be activated by purchasing it directly from the activity page, while it is invalid by recharging through other ways.
2. When purchasing Advanced Battle Pass, payment can only be made by the specified payment method. If no suitable payment method is found, please contact GM.
3. When purchasing Advanced Battle Pass, you won't obtain Gold directly or VIP experience, nor will the recharge be counted in other activities.
Battle Pass Rewards Overview:

Heroes, enjoy the cool Angel brings you in this hot summer~