Dear Heroes:
Blade of Queen will undergo an update for S1-S247 to improve and provide better game experience, which starts at 4:00 Dec.11 (EST). The update lasts about 15 minutes after the in-game announcement.
The update details are as follows:
【New Function】
1. New Mechanical Battle Soul –Mechanical Redeemer
Battle Soul Skill: Divine Mechanical Light
AOE attack, largely increase Accuracy and Deathstrike, have chance to imprison all enemies for 1 round (imprisoned buddies can't cast Special Skill), remain 35 rage after using.
* Players can use Battle Soul summon stone to acquire Battle Soul. Mechanical Redeemer Summon Stone can be obtained in official event.
Click to view details of Battle Soul: https://boq.carolgames.com/article/get_content/4118/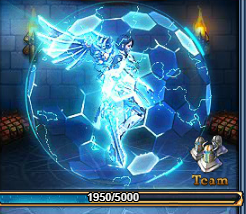 2. The Max Level of Some Functions were Raised
a) The max level of Goddess Vow Upgrade and Vow Dignify were raised.
b) The max level of Spirit Stone in Gems was raised.
c) The max level of Wraithstone was raised.
d) The max level of True Stars, Deity Stars and God Stars were raised.
e) The max Rank of Elemental Divinity was raised. Divinity Inspiration Level 6 & 7 were added as well.
3. New Pages in the Warehouse
a) 1 common page and 1 VIP page were added in the Warehouse
b) Players can use Page 2 after unlocking all slots on Page 1.
c) VIP page can be used after reaching VIP 13 and unlocking all slots on Page 1.
Tips: the Warehouse slots require Gold to unlock.
【Bugs Fixed】
1. Fixed the bug that players in the Blacklist could still send messages
2. Fixed the bug that items could not be exchanged during the display period of Fairy Shop.
3. Fixed the bug that a fused Buddy could not be equipped with Magic Vow in some cases.
Completion time may vary due to advances or delays in update.
During the update, players will not be able to enter the game, please inform each other.
We are so sorry for the inconvenience it brings about and hope you can understand!
Blade of Queen Operation Team
12/11/2019